WELLBEING TREATMENTS
Opt for an all-encompassing therapy that promotes wellbeing from start to finish. Each of these treatments includes a ritual which aims to bring out the maximum benefits of the procedure.
THE BANJARAN SIGNATURE MASSAGE
Duration: 90min
The rich tapestry of Malaysia's culture combines the therapeutic and healing effects of three unique traditions for a true healing experience. This Eastern fusion massage begins with an Indian head massage, followed by the traditional Malay urut massage technique and concludes with Chinese pressure point foot therapy.
TRADITIONAL MALAY URUT MASSAGE
Duration: 75min
Our Malay urut massage techniques have been handed down from generation to generation including the recipe for its distinctive herbal massage oil, which is painstakingly prepared by boiling palm oil with various herbs and spices containing warming and detoxifying properties. This uniquely-designed massage combines traditional methods of stretching and stepping, as well as long kneading strokes and pressure with slow, flowing techniques of lymphatic manual drainage, which is known to improve lymphatic circulation and enhance the immune system. Uses traditional herbal oil from Tanamera.
THE ULTIMATE AROMATHERAPY EXPERIENCE
Duration: 60min | 90min
Relieve tension throughout the body with our aromatheraphy treatment. The massage treatment applies careful pressure to stimulate the nervous system, utilising Swedish and neuromuscular techniques to help relieve muscular tension and lymphatic drainage to encourage a healthy circulation and release the body of stress and strains. The treatment releases tension held in every part of your body leaving you feeling deeply relaxed and recharged.
INNER STRENGTH
Duration: 90min
The Inner Strength treatment is ideal for those who need a nurturing treatment to help stoke their inner strength. The treatment begins with frankincense inhalation and foot cleanse, followed by a deeply nurturing massage application of paraffin wax, renowned for its comforting properties. Then it's on to working the face and scalp, including the incorporation of hot stone therapy, designed to deeply comfort, nurture and support. This treatment will help deliver a deep sense of peace when it's needed most.
INTENSIVE MUSCLE RELEASE
Duration: 60min
This deeply restorative treatment is specifically designed for tight, stressed and aching muscles. Swedish and cross-muscle fibre-massage techniques with stretching and draining are combined with essential oils for their beneficial effects on circulation. This is an intensive massage that works deep into stiff muscles to instantly release pain and tension.
BODY REFINER
Duration: 60min
This toning and slimming treatment starts with body brushing to stimulate your skin. Next is a specially-designed deep tissue detox massage targeting stubborn areas of cellulite, followed by a freshwater mud wrap to firm and tone the skin, while a foot-reflex pressure massage encourages the release and elimination of toxins. This treatment helps refine the body contours and eliminate excess fluids, leaving a slimmer silhouette and smoother skin.
UPLIFT YOUR MOOD
Duration: 90min | 120min
For times when you need a little emotional pampering, this indulgent treatment helps harmonise and rejuvenate the spirits. It begins with a gentle olive grain exfoliation to the legs and feet, followed by an application of vitamin-rich wheat germ oil to cuticles and dry skin. A pressure point massage is applied whilst a warm freshwater mud face mask is combined with a relaxing scalp massage.
ULTIMATE ROSE PREGNANCY MASSAGE
Duration: 60min
Give yourself a moment to appreciate the joy of pregnancy and leave the stresses of life behind you. Choose from a selection of three oils, each safely formulated to be used during pregnancy to nourish and care for your expanding skin. The traditional aromatherapy uses pressure point massage for the upper back, paying particular attention to tight shoulders, followed by a leg massage and full scalp plus facial massage to help relieve stress and tension.
CHI NEI TSANG ABDOMINAL MASSAGE
Duration: 45min
This Tao-originated abdominal massage is ideal for releasing blocked energies of the internal organs, negative emotions, digestive disorders and toxins. By working on the solar plexus chakra, it allows energy to return to the digestive organs.
HEAD, NECK AND SHOULDER MASSAGE
Duration: 30min
The head massage improves blood circulation to the scalp and releases tension on the head. Then the neck and shoulder massage helps relax tension in the muscles, aiding in lymphatic drainage by dispersing toxins from these areas and increasing oxygen to the tissue.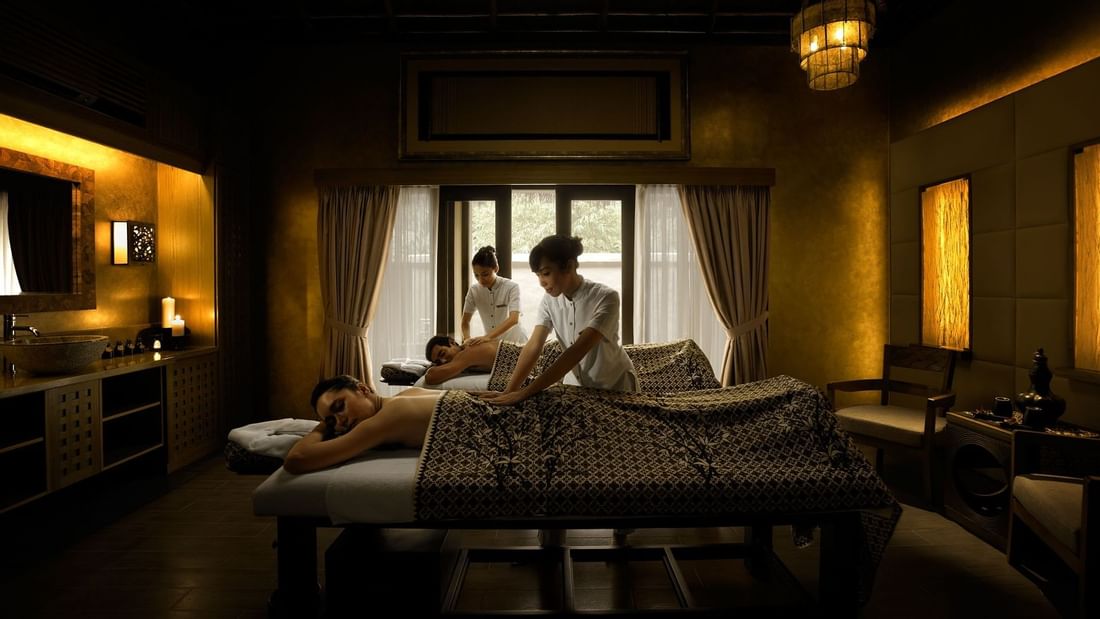 YOU MAY ALSO LIKE
DISCOVER OTHER EXPERIENCES