THE BANJARAN FAVOURITE
If you're unsure where to start, then take your pick from this selection, which will usher you into a world of bliss and leave you feeling rejuvenated.
MALAY RAMUAN SPA JOURNEY
Duration: 180min
Dating back thousands of years, this Malay-inspired package features a fresh burst of aromatic, indigenous ingredients containing healing properties. The HAWA and ADAM treatments are designed for women and men respectively, and they include a therapeutic body massage, luxurious scrub and wrap, herbal cleanse, smoothening hair treatment and calming bath for a truly uplifting experience.
COLON HYDROTHERAPY
Duration: 45min
Cleansing of the colon with regulated, filtered water assists in the release of blockages in the large intestine, and can help alleviate constipation, skin complaints, headaches, lymphatic congestion, parasite infections, fatigue and emotional stress. Ideal for cleansing and de-congesting the bowels.
ABHYANGA REJUVENATION MASSAGE
Duration: 75min
One of the most popular Ayurvedic massages, Abhyanga assists to expel toxins, alleviate fatigue, improve blood circulation and enhance the immune system to rejuvenate the body.
THE BANJARAN SIGNATURE MASSAGE
Duration: 90min
The rich tapestry of Malaysia's culture combines the therapeutic and healing effects of three unique traditions for a true healing experience. This Eastern fusion massage begins with an Indian head massage, followed by the traditional Malay urut massage technique and concludes with Chinese pressure point foot therapy.
TRADITIONAL MALAY URUT MASSAGE
Duration: 75min
Our Malay urut massage techniques have been handed down from generation to generation including the recipe for its distinctive herbal massage oil, which is painstakingly prepared by boiling palm oil with various herbs and spices containing warming and detoxifying properties. This uniquely-designed massage combines traditional methods of stretching and stepping, as well as long kneading strokes and pressure with slow, flowing techniques of lymphatic manual drainage, which is known to improve lymphatic circulation and enhance the immune system.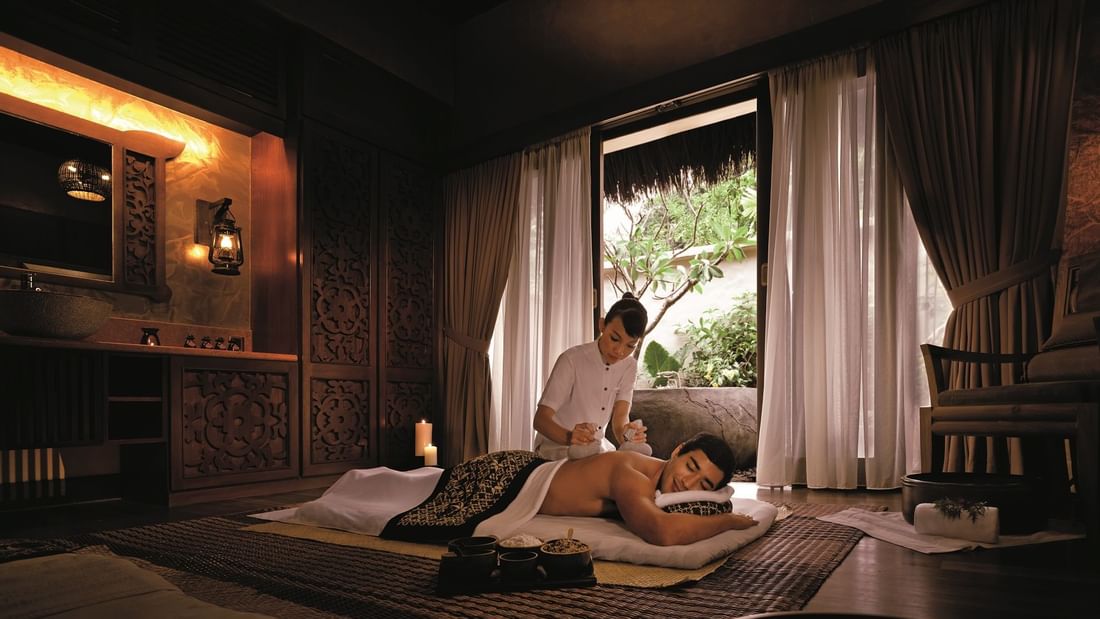 YOU MAY ALSO LIKE
DISCOVER OTHER EXPERIENCES